Man-made pollutants and extreme weather conspire to deteriorate your building structure. Industrial pollution, acid rain, biological growth, freeze-thaw, deicer salts, wind-driven rain and other factors reduce the sustainability of buildings. In the field of building protection, silanes give the materials a special degree of durability and resistance. And this is done without having an adverse effect on the function or major changes in the aesthetics of the building material. The wide spectrum of Protectosil® building protection products enables you to choose the optimal product or product combination for almost every type of application and substrate-like concrete, brick, natural stone, split-face block, sand, limestone and marble granite. Protectosil® building protection products also increase the life cycle of your structure by mitigating the effects of man-made and natural deterioration.

About Protectosil
Evonik's Protectosil, Chem-Trete and Aqua-Trete silane & water-based Water Repellents, Corrosion Inhibitors and Anti Graffiti Treatments offer a wide spectrum of building protection products enabling you to choose the optimal product for almost every type of application and substrate like concrete, brick, natural stone, split-face block, sand, limestone, marble granite etc.
PRODUCTS

About DRY-TRETE 1000L
DRE's DRY-TRETE 1000L is a 100% silane, clear, penetrating, breathable, VOC-compliant surface treatment that effectively protects cast-in-place and precast concrete. DRY-TRETE 1000L is designed to penetrate deep into the substrate and impart a high level of water and chloride screening. This provides the substrate with long-lasting protection.
PRODUCTS
Awards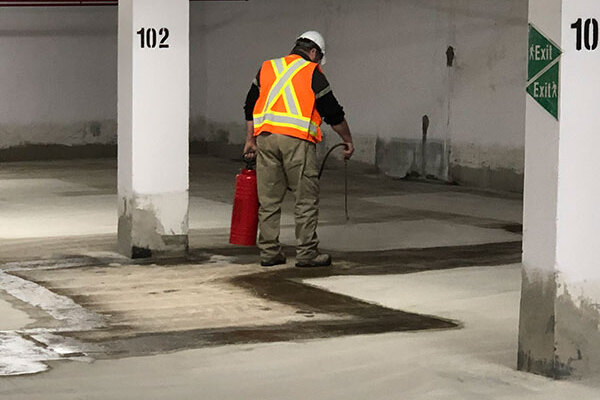 2020 International Concrete Repair Institute Award Of Excellence
Wynford Tower
The 25-story apartment building at 35 Wynford Heights has a two story parking garage that extends beyond the footprint of the building (approximately 45,000 sf per level).
Read More
The garage interior was unprotected from moisture and salt for many years before a mastic waterproofing system was applied. An aging waterproofing membrane on the garage podium slab and on the intermediate slab led to further chloride contamination and eventual concrete deterioration. Significant steps were taken to increase durability as the owner intends to keep the properties for the long term. The Owners were presented with options ranging from deferring repairs, localized repairs and wholesale slab replacement. The selected repair approach was to locally repair deteriorated concrete and completely replace the waterproofing systems. Corrosion potential surveys were used to identify locations of corrosion activity that required special corrosion mitigation strategies using Evonik Protectosil CIT. This approach allowed the Owner to avoid wholesale slab replacement that would have been more costly, more disruptive and much less sustainable.

Due to open communication and collaboration between the owner, contractor and engineer, the garage repairs were deemed to be very successful. The project was completed on budget and on schedule much to the appreciation of the owners and residents!

Engineer: Sense Engineering
Owner: M&R Holdinngs
Contractor: Delbridge Contracting
Product: Evonik Protectosil CIT
Get In Touch
Interested in Silane Building Protection Products?
DRE Industries Inc.
416-233-1603