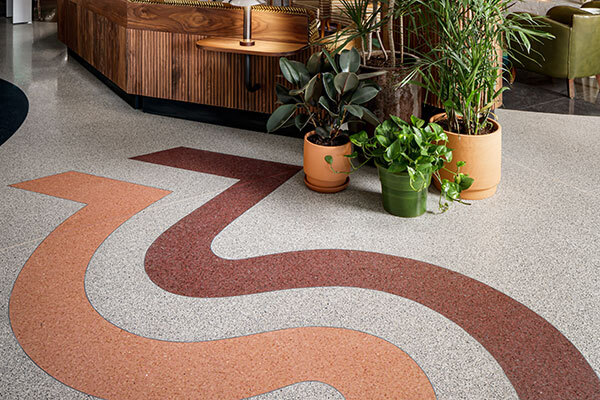 2022 TTMAC Hardsurface Awards: Terrazzo
The Drake Hotel – Modern Wing
The Drake Hotel is a Toronto hotel destination located in the Queen West neighbourhood and is well known for its celebration of community, culture, and contemporary art. The Drake Hotel expanded with the addition of the "Modern Wing". The completed project has achieved the Toronto Green Standard Tier 2 requirements for sustainable design.
Read More
The five-story expansion allows for 32 new hotel rooms as well as a rooftop suite & terrace. The new "Modern Wing" is a contemporary design that contrasts the "Classic Wing" that once housed the entire hotel. A new ground floor in the main lobby is where Franklin Terrazzo Company Inc. created a seamless transition from classic to modern through their terrazzo installation.
Franklin Terrazzo Company Inc. created 6 colours to match the pastel shades of the original portland cement terrazzo of the vintage building. The new lobby features jewel tone terrazzo floors with a modern design full of dynamic energy and movement. The 9mm epoxy terrazzo floor spans 2,000 square feet over a moisture mitigation membrane and crack isolation membrane. The patterns were created with 1/8" zinc strips to define the crisp edges of the design.
Architect: Diamond Schmitt Architects
Designer: Design Agency, +tongtong and The Drake's in-house team
Owner: Drake Hotel Properties
General Contractor: Skygrid Construction Inc.
Trade Contractor: Franklin Terrazzo Company
Supplier: Domus Terrazzo Supply Co.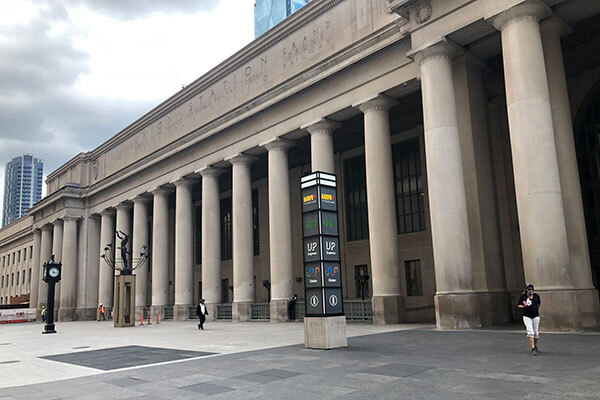 2021 SWA Trillium Award Winner
Union Station
Read the Article: Union Station Groundbreaking Project Wins SWA's Trillium Award
Union Station is the busiest transit hub in Canada. In 2006, the City of Toronto required a revitalization plan to: expand and enhance the multi-modal hub to accommodate the expected growth from 70 million passengers a year to a projected 90 million passengers by 2036; restore and renovate the National Historic Site, the most important Beaux-Arts railway station in Canada and; create a destination, commercial retail hub.
Read More
NORR was selected to lead the project and developed the most technically innovative architecture and engineering solution ever to be implemented at this scale in Canada. The expansion of Union Station involved their "dig down" method that excavated an additional space, 13 feet below the station basement—all completed while maintaining full station services. The "dig down" solution provides 110,000 sf of new passenger concourse space with the insertion of 2 new floors in the dig down area.
In the end, this successful collaboration between all partners ensured excellence in the finished work. It was truly a partnership between NORR, CETCO Manufacturer supported by DRE Industries, an experienced local business partner, and Duron, an industry leader in waterproofing that provided a quality installation.

Allied Professional: NORR Architects & Engineers Limited
Contractor: Duron Ontario Ltd.
Manufacturer: CETCO/DRE Industries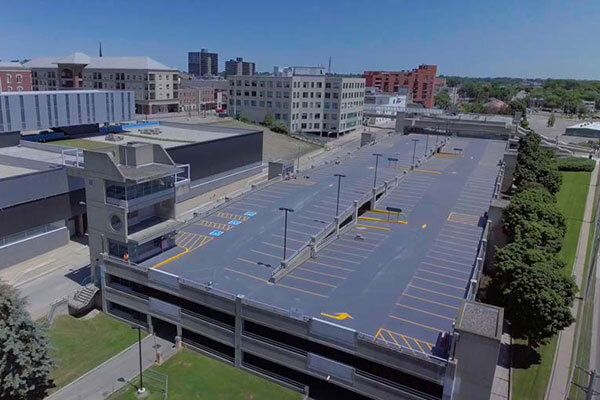 2021 SWA Trillium Award Finalist
Market Centre Parkade
This site is a concrete structure that consists of three parking levels with a pedestrian level walkway and bridge connecting to downtown Brantford's main street. Over the years, the structure had developed concrete delamination and the service life of the existing membrane was coming to an end. It was determined that a wholesale garage restoration program was required to bring this structure up to current standards.
Read More
The project involved many different aspects of work. First and foremost, there was significant concrete restoration required due to leaking cracks and debonded waterproofing membrane. The scope of work also involved wholesale removal of the existing traffic topping and the installation of a new thin system urethane traffic topping. Fibre reinforced polymer and structural reinforcement (FRP) of the existing columns and beams was necessary, along with the removal and replacement of expansion joints.
Moon-Matz Ltd., the lead project consultant, had spent years putting together the plan to successfully rehabilitate the structure. The garage restoration general contractor, Macdero Construction (Ontario) Ltd., won the public tender bid submission and worked with Neogard in selecting the Auto- Gard FC Urethane traffic topping and RTS system.
The end result was a project that the City of Brantford and our team with Moon- Matz and Macdero are proud to have delivered to the City of Brantford.
Allied Professional/Consultant: Moon-Matz Ltd.
Contractor: Macdero Construction (Ontario) Ltd.
Manufacturer: Neogard/DRE Industries Inc.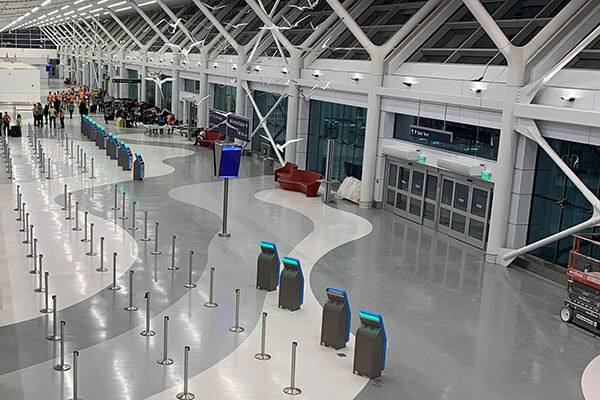 2021 TTMAC Hardsurface Awards: International
LF Wade International Airport
With Bermuda's existing terminal which was built between 1941 and 1943 and sitting at just 11 feet above sea level and battling waves, flooding, and storm surges it was clear it was reaching the end of its useful life.
Read More
The new terminal is 288,000 square feet with 6 gates. As one of the largest projects that the 20-square- mile island has ever seen, it features materials and décor that reflect the history, flora, and fauna of Bermuda and its community.
The airport now features 45,000 square feet of stunning 9mm thick epoxy terrazzo with Moisture Mitigation and Full Coverage Crack Isolation Membrane.
"And through innovative thinking – we built and proved the model for how small airports can nevertheless achieve world class outcomes."
Architect: Scott Associates Architects
Owner: Government of Bermuda
General Contractor: Aecon Group
Trade Contractors: Franklin Terrazzo
Supplier: Domus Terrazzo Supply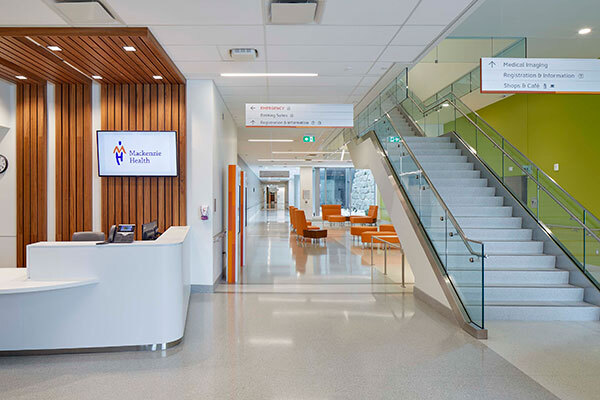 2021 TTMAC Hardsurface Awards: Terrazzo
Cortellucci Vaughan Hospital
The Cortellucci Vaughan Hospital (Formerly Mackenzie Vaughan Hospital) was completed in 2020 and officially opened in February of 2021 as a system-wide support resource for Ontario's COVID-19 pandemic response capacity pressures caused by the pandemic.
Read More
The terrazzo installed by Franklin Terrazzo Company can be seen in the public corridors and spaces of levels one and two as well as two monumental precast staircases. The floor is comprised of 42,000 square feet of 9mm thick Epoxy Terrazzo with Moisture Mitigation and Full Coverage Crack Isolation Membrane.
Encompassing this floor is 4,500 lineal feet of precast terrazzo base manufactured in Franklin Precast Shop. The staircases contain 102 pieces of 2" thick, one-piece tread and riser units, as well as landings. All aggregates used to create the terrazzo work were Canadian products and sourced locally. We included 10% recycled glass to help Cortellucci Vaughan Hospital in their goal of achieving Silver LEED certification.
Architect: Stantec
Owner: Mackenzie Health
General Contractor: PCL Constructors
Trade Contractor: Franklin Terrazzo
Supplier: Domus Terrazzo Supply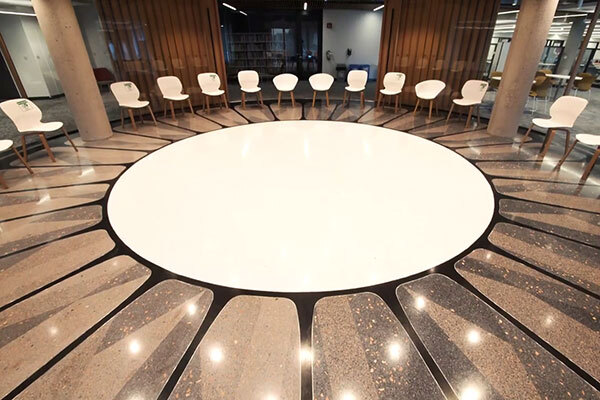 2021 TTMAC Hardsurface Awards: Unique Special Award
Fanshawe's Institute for Indigenous Learning
Fanshawe's Institute for Indigenous Learning will be a focal point for Indigenous students and communities to engage in research, innovation, experiential and digital learning and social entrepreneurship.
Read More
Franklin Terrazzo Company Inc collaborated with the design team at Diamond Schmidt Architects and Guy Williams, Special Advisor, Indigenous Education and Development at Fanshaw College to achieve perfect colours for the 33-foot diameter project.
To create the artist's vision, it was imperative to the artwork that the pattern within the 28 sections not be separated by divider strip. To achieve this, Franklin Terrazzo precast all the components and assembled them at Franklin Terrazzo Company located in Chatham, ON.
Architect: Diamond Schmitt Architects
General Contractor: D Grant Construction
Trade Contractor: Franklin Terrazzo
Supplier: Domus Terrazzo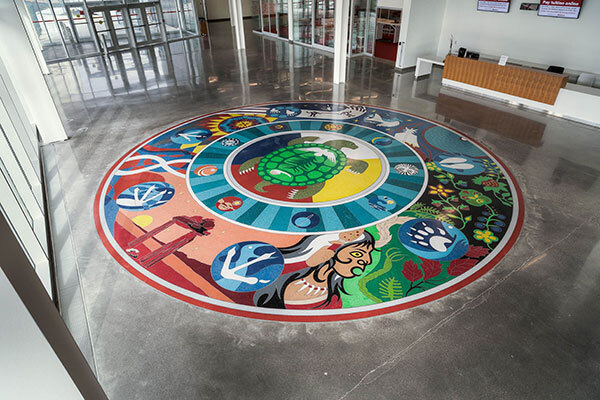 2020 National Terrazzo & Mosaic Association, Inc. Honor Award Winner
Seneca College
The raw materials in creating this striking work of art were epoxy terrazzo in 22 vibrant colors with white glass, clear glass, mirror, and marble chips and an intricate waterjet-cut aluminum divider strip pattern.
Read More
This durable installation will last the life of the building. The local indigenous community was engaged in the development of this new facility for innovation, technology, and entrepreneurship. The terrazzo contractor worked closely with the artist, a member of the Neskantaga First Nation, producing numerous color samples to ensure that his vision was translated accurately into the floor.
Architect: Perkins and Will
Artist: Joseph Sagaj
GC: EllisDon
Contractor: Franklin Terrazzo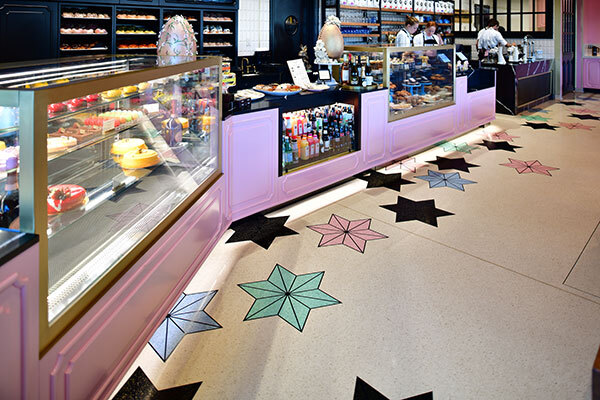 2020 TTMAC Hard Surface Awards: International
The Glass Knife
The Glass Knife is a cafe/bakery inspired by a loving mother and hobbyist baker whose talents transformed her baking into a true creative profession.
Read More
Jacque, current owner Steve Brown's mother, was an avid collector of depression glass including an extensive collection of glass knives, which became the inspiration and brand of this project. The glass knives inspired all aspects of the interior design including the custom terrazzo floor throughout the space. The star pattern featured in floor comes directly from the detailing most commonly found on the handles of these knives. The pink, blue and green hues used for the 'stars', are the colours of the knives themselves. The most unique aspect of the floor is that each and every star is embedded with chips of the crushed depression glass that belonged to Brown's mother.
Architect: Maverick Architects
Artist: Surroundings Interiors
GC: Welbro Building Corp
Contractor: Franklin Terrazzo