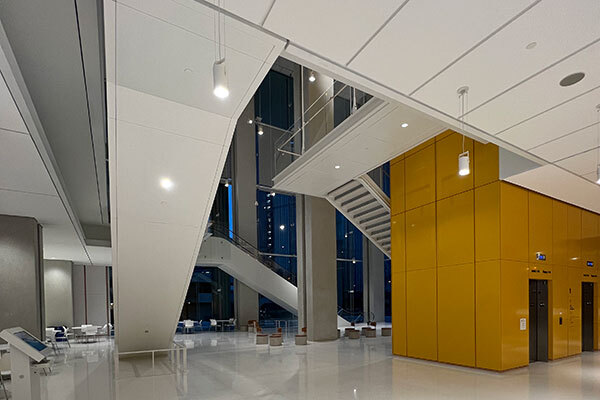 2023 TTMAC Hard Surface Award – Terrazzo
New Toronto Courthouse
The Ontario Court of Justice – Toronto is now located in a fully accessible, state of the art courthouse. It features 63 judicial hearing rooms and will bring together six Ontario Court of Justice criminal court locations. These courts include specialty courts such as those for drug treatment, youth, and mental health. Construction began in the fall of 2018 and is now the largest courthouse in Ontario and the second largest in Canada.
Read More
The new Toronto Courthouse was designed by the internationally renowned Renzo Piano Building Workshop in partnership with Canadian-based architecture firm NORR Architects. The 17-story design can now boast being the most accessible courthouse in Ontario. Among elements such as video capabilities for remote attendance, barrier free boxes, and braille signage are the tactile indicators installed by Franklin Terrazzo Company Inc. Thousands of stainless-steel domes and bars are installed in the public spaces to assist in wayfinding. The more unique tactiles are those installed at the courtroom entrances. These tactiles were not only installed by Franklin Terrazzo Company but also fabricated at their precast shop in Chatham, Ontario and transported to site. The large precast panels were cast, and material was then ground and removed creating panels with integral tactile bars matching the exact specifications as their stainless-steel counterparts.

Franklin Terrazzo Company Inc. worked with EllisDon Design Build Inc. to install beautiful epoxy terrazzo in the public spaces of the courthouse. This includes the large lobbies of the ground and first floors, 12 elevator cabs, as well as public corridors and washrooms on all 17 floor levels. There are 46 public washrooms exhibiting beautiful epoxy terrazzo floors and base.

Connecting the ground to the first floor is the feature staircase, featuring 5-foot-long self-supporting epoxy terrazzo treads with detailed nosing. The 140,000 square feet of crisp white floors are the result of extensive leveling and flattening of the concrete slab performed by Franklin Terrazzo Company Inc. to achieve a super flat finish. This substrate was also treated with full coverage crack isolation membrane prior to the installation of the epoxy terrazzo. The use of white epoxy resin with pure white marble chips are what give the floors their brilliant white appearance and are framed with 3" precast flat terrazzo base.

Architect: Renzo Piano Building Workshop / NORR Architects
General Contractor: EllisDon Design Build Inc.
Contractor: Franklin Terrazzo Company Inc.
Material Supplier: Domus Terrazzo Supply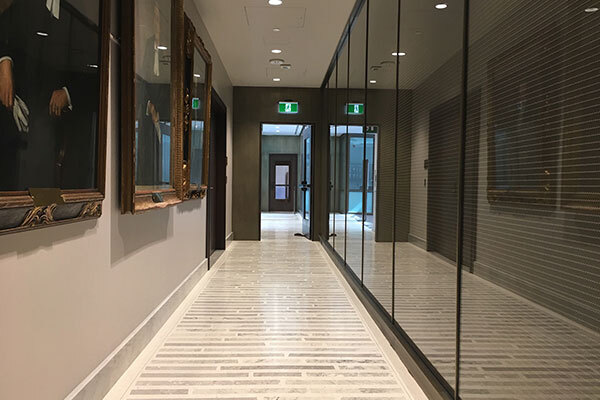 2023 NTMA Honor Award Winner
Senate of Canada
The Senate of Canada is located at Center Block on Parliament Hill in Ottawa.

The existing Centre Block is undergoing a 10-year renovation project which is resulted in the relocation of The Senate of Canada to a temporary new location which was built in 1909 and was originally the Ottawa Union Train Station.

Public Works Canada along with Diamond Schmitt Architects and KWC Architects in joint venture took on the challenge to design the 8,000 square feet of corridors and lobby floors of the New Senate Building. In this design it was noted that the existing marble had to be incorporated as it was deemed Heritage Marble.
Read More

The existing Missisquoi Grey Marble floors, baseboards, wainscoting, and stairs were salvaged and cut into 2 inch wide by 1 ½ inch thick pieces by random lengths ranging from 10 inches to 30 inches.

Due to the irregular and sloped floor of the old railway station a conventional sand and cement underbed was installed.

The underbed was left to cure for 5 days. A Moisture Vapor Treatment was installed followed by epoxy primer. Two coats of full coverage fiber reinforced crack isolation membrane were applied. 1/16-inch zinc divider strips were laid along with expansion joints.

The next step was the installation of the Heritage marble bars. The random lengths of Heritage Marble bars were chopped in length with a mosaic chopper creating broken and uneven edges giving them an old-world appearance.
The heritage marble bars were installed at random within the 4 feet by 9-foot panels using an epoxy mastic. Once the heritage marble bars were successfully installed an epoxy terrazzo mixture consisting of Aggregate sized at #0, #1 and #2 was poured to complete the installation. The entire floor was then ground to an 800-grit finish and sealed.
Architect: Diamond Schmitt Architects and KWC Architects in Joint Venture
General Contractor: PCL Construction
Terrazzo Contractor: Franklin Terrazzo Company
Supplier: Domus Terrazzo / T and M Supply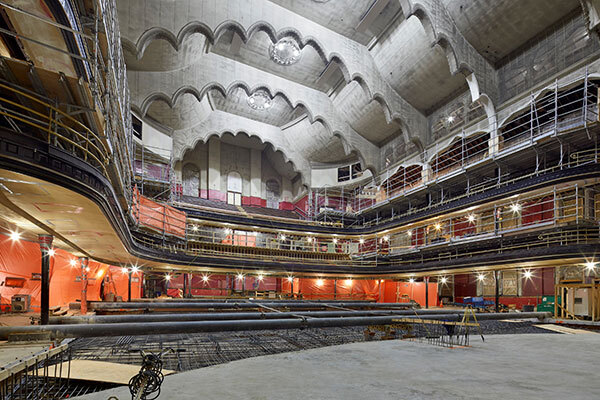 2022 SWA Trillium Award Winner
Massey Hall
Read the Article: Revitalizing Toronto's Massey Hall: A famed venue retakes the spotlight
Since opening its doors in 1894, Toronto's Massey Hall has become one of Canada's most iconic performance spaces and a host to the world's greatest talent. Over a century later, in July 2018, The Massey Hall revitalization project was undertaken to modernize the celebrated entertainment venue for the 21st century. The project represented the most significant renovation in the Hall's 127-year history.
Read More
Completed in November 2021, the multi year revitalization includes re-envisioned architecture and interiors by KPMB Architects, which worked alongside heritage architects GBCA to create a design scheme that honours the building's legacy while providing a state-of-the-art performance venue for the future with enhanced acoustics and seating. The project vision included three primary elements: a major addition, new suspended walkways along the east and west sides of the venue, and an extensive renovation and restoration of the heritage architecture.
Accommodating KPMB and GBCA's new vision in the middle of downtown Toronto meant navigating a tight, urban site. This proved challenging as the developer's condominium project required a street-level right of way, leaving limited space for Massey Hall's loading and stage dock areas at grade. With critically needed lobby space occupying the first two levels of the addition above grade, the only option for accommodating stage support spaces was below grade. The solution: create two waterproofed basement levels filling the full site footprint with the lower basement dedicated primarily to services and the level above to dressing rooms and a green room that align with the expectations of major performers.
Massey Hall is a Canadian heritage site. Due to the historical nature of the building a waterproofing membrane with long-term performance characteristics was crucial. Since the basement is a critical occupied space, the product selected had to have a meaningful long-term warranty. Anecdotal evidence suggested that a branch of the fabled Taddle Creek aquifer was present on or around the site and this demanded a robust and reliable waterproofing approach and waterproofing product. The design team selected CETCO's Ultraseal for this application as the product's reliability in a blindside application condition was well understood by the consultant team based on past projects. The strong product and installation support by the manufacturer permitted the design team to collaboratively solve difficult detail conditions for the application, and the extensive experience using the product among local waterproofing trades promised a high caliber of workmanship in the application was possible. In the end the collaboration of the project team of KPMB, DRE/CETCO and Bothwell-Accurate delivered the successful completion of the project.
Allied Professional: KPMB Architects
Contractor: Bothwell-Accurate.
Manufacturer: CETCO/DRE Industries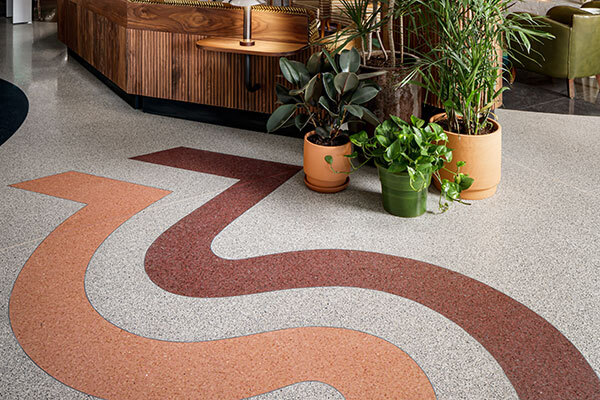 2022 TTMAC Hardsurface Awards: Terrazzo
The Drake Hotel – Modern Wing
The Drake Hotel is a Toronto hotel destination located in the Queen West neighbourhood and is well known for its celebration of community, culture, and contemporary art. The Drake Hotel expanded with the addition of the "Modern Wing". The completed project has achieved the Toronto Green Standard Tier 2 requirements for sustainable design.
Read More
The five-story expansion allows for 32 new hotel rooms as well as a rooftop suite & terrace. The new "Modern Wing" is a contemporary design that contrasts the "Classic Wing" that once housed the entire hotel. A new ground floor in the main lobby is where Franklin Terrazzo Company Inc. created a seamless transition from classic to modern through their terrazzo installation.
Franklin Terrazzo Company Inc. created 6 colours to match the pastel shades of the original portland cement terrazzo of the vintage building. The new lobby features jewel tone terrazzo floors with a modern design full of dynamic energy and movement. The 9mm epoxy terrazzo floor spans 2,000 square feet over a moisture mitigation membrane and crack isolation membrane. The patterns were created with 1/8" zinc strips to define the crisp edges of the design.
Architect: Diamond Schmitt Architects
Designer: Design Agency, +tongtong and The Drake's in-house team
Owner: Drake Hotel Properties
General Contractor: Skygrid Construction Inc.
Trade Contractor: Franklin Terrazzo Company
Supplier: Domus Terrazzo Supply Co.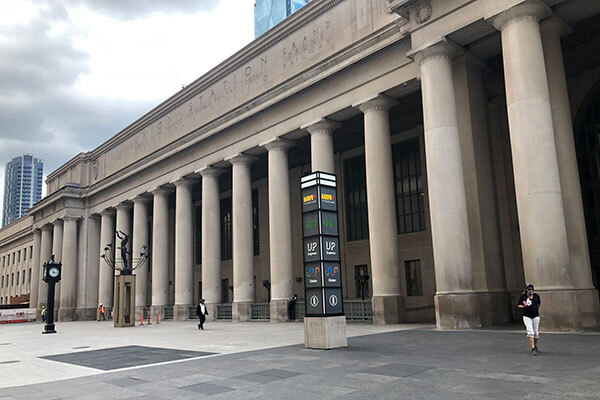 2021 SWA Trillium Award Winner
Union Station
Read the Article: Union Station Groundbreaking Project Wins SWA's Trillium Award
Union Station is the busiest transit hub in Canada. In 2006, the City of Toronto required a revitalization plan to: expand and enhance the multi-modal hub to accommodate the expected growth from 70 million passengers a year to a projected 90 million passengers by 2036; restore and renovate the National Historic Site, the most important Beaux-Arts railway station in Canada and; create a destination, commercial retail hub.
Read More
NORR was selected to lead the project and developed the most technically innovative architecture and engineering solution ever to be implemented at this scale in Canada. The expansion of Union Station involved their "dig down" method that excavated an additional space, 13 feet below the station basement—all completed while maintaining full station services. The "dig down" solution provides 110,000 sf of new passenger concourse space with the insertion of 2 new floors in the dig down area.
In the end, this successful collaboration between all partners ensured excellence in the finished work. It was truly a partnership between NORR, CETCO Manufacturer supported by DRE Industries, an experienced local business partner, and Duron, an industry leader in waterproofing that provided a quality installation.

Allied Professional: NORR Architects & Engineers Limited
Contractor: Duron Ontario Ltd.
Manufacturer: CETCO/DRE Industries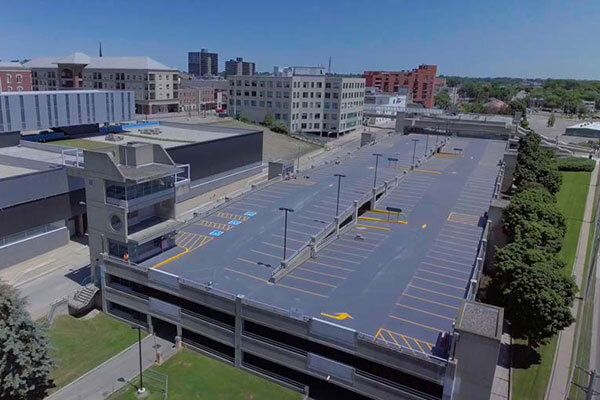 2021 SWA Trillium Award Finalist
Market Centre Parkade
This site is a concrete structure that consists of three parking levels with a pedestrian level walkway and bridge connecting to downtown Brantford's main street. Over the years, the structure had developed concrete delamination and the service life of the existing membrane was coming to an end. It was determined that a wholesale garage restoration program was required to bring this structure up to current standards.
Read More
The project involved many different aspects of work. First and foremost, there was significant concrete restoration required due to leaking cracks and debonded waterproofing membrane. The scope of work also involved wholesale removal of the existing traffic topping and the installation of a new thin system urethane traffic topping. Fibre reinforced polymer and structural reinforcement (FRP) of the existing columns and beams was necessary, along with the removal and replacement of expansion joints.
Moon-Matz Ltd., the lead project consultant, had spent years putting together the plan to successfully rehabilitate the structure. The garage restoration general contractor, Macdero Construction (Ontario) Ltd., won the public tender bid submission and worked with Neogard in selecting the Auto- Gard FC Urethane traffic topping and RTS system.
The end result was a project that the City of Brantford and our team with Moon- Matz and Macdero are proud to have delivered to the City of Brantford.
Allied Professional/Consultant: Moon-Matz Ltd.
Contractor: Macdero Construction (Ontario) Ltd.
Manufacturer: Neogard/DRE Industries Inc.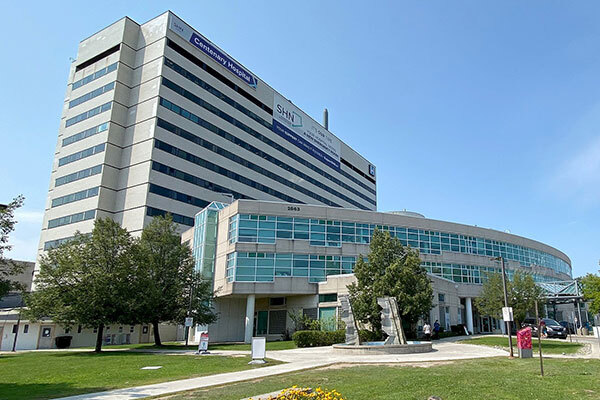 2021 SWA Trillium Award Finalist
Centenary Health Centre
The Shoniker tunnel is a pedestrian tunnel that connects the Rouge Valley Centenary Hospital and Shoniker Clinic beneath Neilson Road. The project aimed to repair the failed expansion joints within the tunnel, repair leaking cracks as well as concrete surfaces. This involved excavating the tunnel and installing new waterproofing on the tunnel walls and roof slab.
Read More
The work needed to be completed during the winter months, which required heat and hoarding for the waterproofing application, as well as phased closures of the road and the Hospital Emergency Entrance which was very problematic. Vector Corrosion Technologies, RJC Engineers, and Koster proposed an alternative solution; the repair strategy was to complete a curtain wall area injection method using a water based elastic acrylic gel waterproofing system (Koster G4) with all repairs to the entire tunnel structure undertaken completely from the interior.
This innovative design solution saved the client several hundreds of thousands of dollars and avoided the significant site and environmental disruption that would have been caused by the original proposed excavation scope.

Allied Professional / Consultant: RJC Engineers
Contractor: Vector Corrosion Technologies Ltd.
Manufacturer: Koster Waterproofing Systems c/o DRE Industries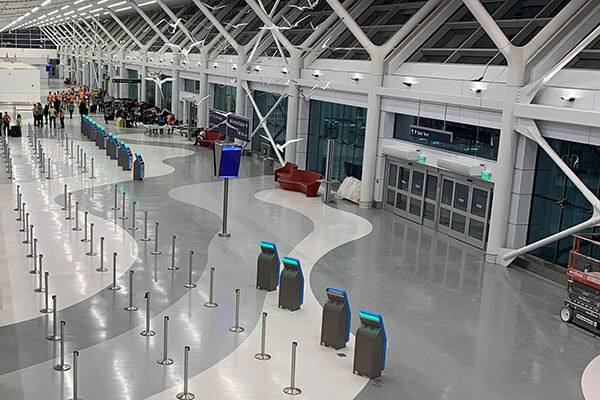 2021 TTMAC Hardsurface Awards: International
LF Wade International Airport
With Bermuda's existing terminal which was built between 1941 and 1943 and sitting at just 11 feet above sea level and battling waves, flooding, and storm surges it was clear it was reaching the end of its useful life.
Read More
The new terminal is 288,000 square feet with 6 gates. As one of the largest projects that the 20-square- mile island has ever seen, it features materials and décor that reflect the history, flora, and fauna of Bermuda and its community.
The airport now features 45,000 square feet of stunning 9mm thick epoxy terrazzo with Moisture Mitigation and Full Coverage Crack Isolation Membrane.
"And through innovative thinking – we built and proved the model for how small airports can nevertheless achieve world class outcomes."
Architect: Scott Associates Architects
Owner: Government of Bermuda
General Contractor: Aecon Group
Trade Contractors: Franklin Terrazzo
Supplier: Domus Terrazzo Supply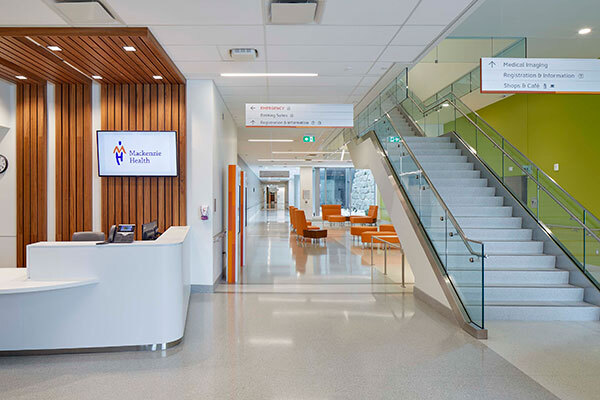 2021 TTMAC Hardsurface Awards: Terrazzo
Cortellucci Vaughan Hospital
The Cortellucci Vaughan Hospital (Formerly Mackenzie Vaughan Hospital) was completed in 2020 and officially opened in February of 2021 as a system-wide support resource for Ontario's COVID-19 pandemic response capacity pressures caused by the pandemic.
Read More
The terrazzo installed by Franklin Terrazzo Company can be seen in the public corridors and spaces of levels one and two as well as two monumental precast staircases. The floor is comprised of 42,000 square feet of 9mm thick Epoxy Terrazzo with Moisture Mitigation and Full Coverage Crack Isolation Membrane.
Encompassing this floor is 4,500 lineal feet of precast terrazzo base manufactured in Franklin Precast Shop. The staircases contain 102 pieces of 2" thick, one-piece tread and riser units, as well as landings. All aggregates used to create the terrazzo work were Canadian products and sourced locally. We included 10% recycled glass to help Cortellucci Vaughan Hospital in their goal of achieving Silver LEED certification.
Architect: Stantec
Owner: Mackenzie Health
General Contractor: PCL Constructors
Trade Contractor: Franklin Terrazzo
Supplier: Domus Terrazzo Supply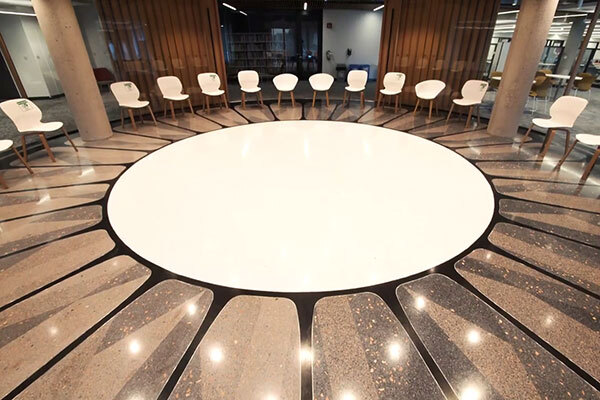 2021 TTMAC Hardsurface Awards: Unique Special Award
Fanshawe's Institute for Indigenous Learning
Fanshawe's Institute for Indigenous Learning will be a focal point for Indigenous students and communities to engage in research, innovation, experiential and digital learning and social entrepreneurship.
Read More
Franklin Terrazzo Company Inc collaborated with the design team at Diamond Schmidt Architects and Guy Williams, Special Advisor, Indigenous Education and Development at Fanshaw College to achieve perfect colours for the 33-foot diameter project.
To create the artist's vision, it was imperative to the artwork that the pattern within the 28 sections not be separated by divider strip. To achieve this, Franklin Terrazzo precast all the components and assembled them at Franklin Terrazzo Company located in Chatham, ON.
Architect: Diamond Schmitt Architects
General Contractor: D Grant Construction
Trade Contractor: Franklin Terrazzo
Supplier: Domus Terrazzo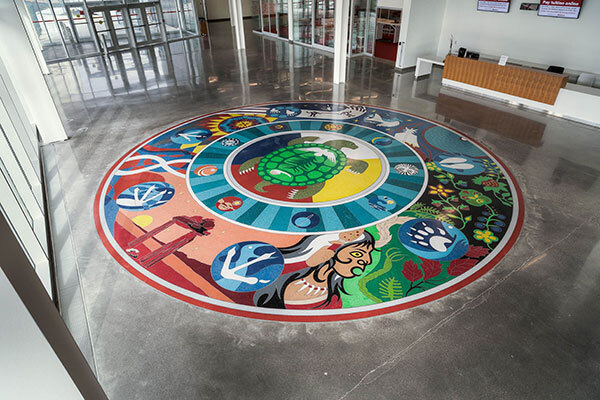 2020 National Terrazzo & Mosaic Association, Inc. Honor Award Winner
Seneca College
The raw materials in creating this striking work of art were epoxy terrazzo in 22 vibrant colors with white glass, clear glass, mirror, and marble chips and an intricate waterjet-cut aluminum divider strip pattern.
Read More
This durable installation will last the life of the building. The local indigenous community was engaged in the development of this new facility for innovation, technology, and entrepreneurship. The terrazzo contractor worked closely with the artist, a member of the Neskantaga First Nation, producing numerous color samples to ensure that his vision was translated accurately into the floor.
Architect: Perkins and Will
Artist: Joseph Sagaj
GC: EllisDon
Contractor: Franklin Terrazzo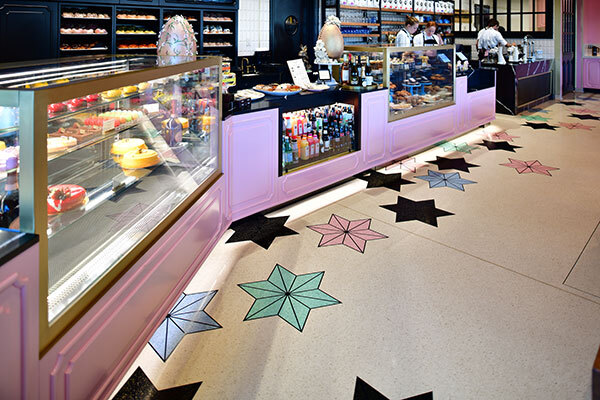 2020 TTMAC Hard Surface Awards: International
The Glass Knife
The Glass Knife is a cafe/bakery inspired by a loving mother and hobbyist baker whose talents transformed her baking into a true creative profession.
Read More
Jacque, current owner Steve Brown's mother, was an avid collector of depression glass including an extensive collection of glass knives, which became the inspiration and brand of this project. The glass knives inspired all aspects of the interior design including the custom terrazzo floor throughout the space. The star pattern featured in floor comes directly from the detailing most commonly found on the handles of these knives. The pink, blue and green hues used for the 'stars', are the colours of the knives themselves. The most unique aspect of the floor is that each and every star is embedded with chips of the crushed depression glass that belonged to Brown's mother.
Architect: Maverick Architects
Artist: Surroundings Interiors
GC: Welbro Building Corp
Contractor: Franklin Terrazzo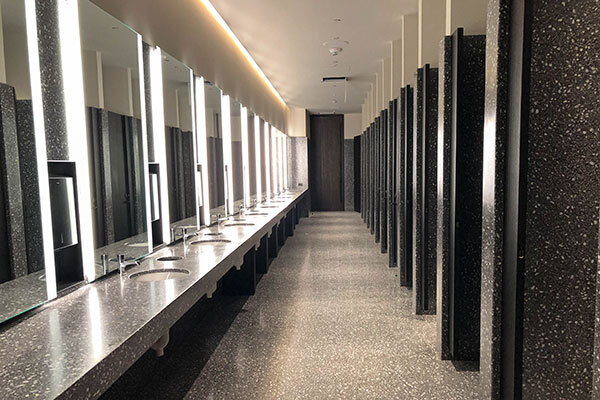 2020 TTMAC Hard Surface Awards: Terrazzo
Tom Patterson Theatre
In 1952, Tom Patterson set out to establish a six-week Shakespeare Festival in Stratford, Ontario. Now, 66 years later, the Stratford Festival operates year round and has welcomed 28 million theatregoers, generating billions of dollars' worth of economic activity for the city.
Read More
In 2020, to mark the lOOth anniversary of his birth, the Stratford Festival will dedicate a glorious new theatre to Tom Patterson.

The Terrazzo protion of this project consisted of 9 restrooms located throughout the building. The scope of the work included 2500 square feet of venetian epoxy terrazzo flooring with brass coloured plastic divider strips, 7000 square feet of the precast epoxy terrazzo walls and 150 lineal feet of precast epoxy terrazzo countertops. The longest of these countertops measured over 34 feet in length. These countertops were cast in one piece with a 4" apron.
Architect: Hariri Pontarini
GC: EllisDon
Contractor: Franklin Terrazzo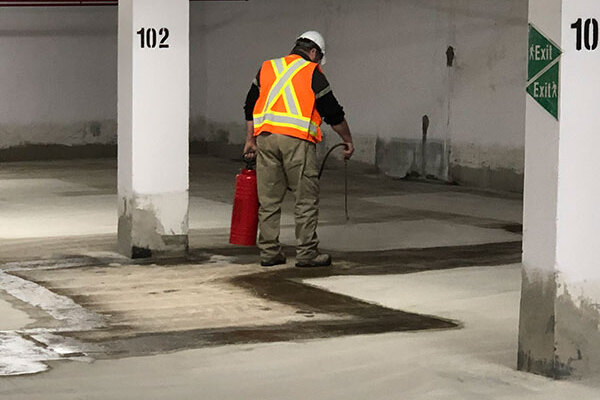 2020 International Concrete Repair Institute Award Of Excellence
Wynford Tower
The 25-story apartment building at 35 Wynford Heights has a two story parking garage that extends beyond the footprint of the building (approximately 45,000 sf per level).
Read More
The garage interior was unprotected from moisture and salt for many years before a mastic waterproofing system was applied. An aging waterproofing membrane on the garage podium slab and on the intermediate slab led to further chloride contamination and eventual concrete deterioration. Significant steps were taken to increase durability as the owner intends to keep the properties for the long term. The Owners were presented with options ranging from deferring repairs, localized repairs and wholesale slab replacement. The selected repair approach was to locally repair deteriorated concrete and completely replace the waterproofing systems. Corrosion potential surveys were used to identify locations of corrosion activity that required special corrosion mitigation strategies using Evonik Protectosil CIT. This approach allowed the Owner to avoid wholesale slab replacement that would have been more costly, more disruptive and much less sustainable.

Due to open communication and collaboration between the owner, contractor and engineer, the garage repairs were deemed to be very successful. The project was completed on budget and on schedule much to the appreciation of the owners and residents!

Engineer: Sense Engineering
Owner: M&R Holdinngs
Contractor: Delbridge Contracting
Product: Evonik Protectosil CIT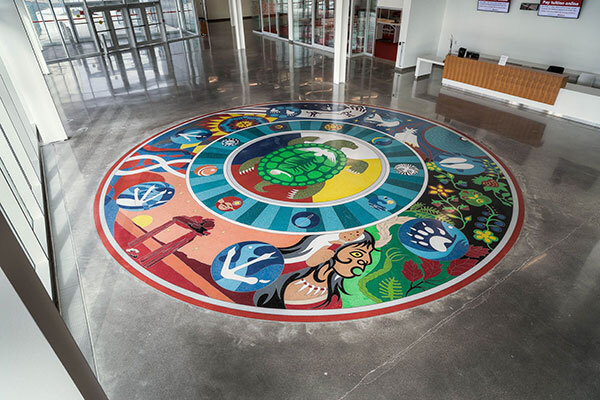 2019 TTMAC Hard Surface Awards: Project of the Year & Terrazzo
Seneca College
A terrazzo medallion at Seneca College's new Centre for Innovation, Technology and Entrepreneurship (CITE) in Toronto pays tribute to Indigenous culture. Through a rigorous selection process, Indigenous artist Joseph Sagaj, a member of the Neskantaga First Nation, was selected to create the artwork.
Read More
Because of the tight timeline and desire to have a durable installation that would last the life of the building and successfully translate the artist's vision onto the floor, terrazzo was identified as the best flooring product to get the colour rendition and durability needed. Measuring 10 metres in diameter and featuring a turtle in the centre, the installation references Turtle Island, the continent of North America in Indigenous culture, according to a Seneca College press release. The structural slab had a three inch depression where the 800-square-foot-medallion was to be installed. The terrazzo contractor installed a 212-inch conventional sand and cement underbed.

After a seven-day cure period, a moisture mitigation membrane treatment was applied, followed by a full coverage crack isolation membrane. The terrazzo floor was polished to a 400-grit level and a finish was then applied. The complex aluminum divider strip pattern/design was installed. Twenty-two vibrant colours, including red, blue, green, yellow, and black and white were used. Polar white glass, clear glass, mirror and marble chips were used to create this intricate work of art. The client was thrilled with the project. ""It's a beautiful piece of artwork by a talented Indigenous artist that's been installed with a great deal of precision and care. We are proud to have it as the welcome point into the CITE building and thrilled that it's been recognized by the industry,' said Angelo Miranda, Director of Major Capital Projects at Seneca, in a press release.

Architect: Perkins and Will
Artist: Joseph Sagaj
GC: EllisDon
Contractor: Franklin Terrazzo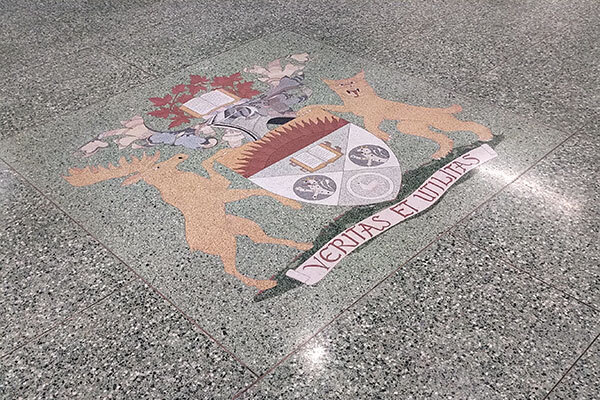 2019 TTMAC Hard Surface Awards: Restoration
University of Western College
The University College in London, ON is one of the University of Western Ontario's most iconic buildings. Originally constructed in 1922, the interior infrastructure was no longer able to match the university's modern demands, so a massive renovation was needed.
Read More
The terrazzo contractor restored 52,000 sq. ft. of flooring, along with four staircases and one grand staircase. One of the big challenges was repairing cracks and patches in the almost 100-year-old terrazzo floors using tinted cements. Another was installing 8,000 square feet of new terrazzo floors to match existing floors in the building. This was achieved by honouring methods used 100 years ago. The terrazzo contractor used reclaimed marble mosaics in place of today's methods of using divider strips. The auditorium's existing wood stage was replaced with a black terrazzo floor and fittingly features the University of Western Ontario's logo in white and purple terrazzo with glass aggregates.

Architect: Architect Tillman Ruth Robinson
General Contractor: Tonda Construction Trade
Contractor: Franklin Terrazzo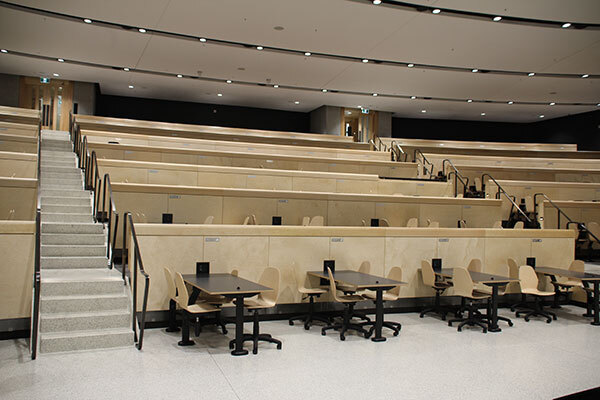 2019 TTMAC Hard Surface Awards: Unique Special Award
University of Toronto's Myhal Centre for Engineering Innovation and Entrepreneurship
The University of Toronto's Myhal Centre for Engineering Innovation and Entrepreneurship is a space that encourages engineers to bring their innovative ideas and products to the marketplace.
Read More
Fittingly, the terrazzo work featured in this project embodied this spirit. Three grand staircases that resulted in 1,535 ft. of stair treads and 500 sq. ft. of landings were installed. The tread and riser were composed of one solid piece of terrazzo and had a triangular shape to allow the threads to be stacked and locked into place on site. The landings were constructed of 4-inch precast terrazzo panels divided with 14-inch brass divider strips. The auditorium's 112 stair treads and 27 landings were precast treads made with a unique design, which were all manufactured at the contractor's shop, delivered on site and bolted into place on a steel structure. The grand staircase also included a seating area crafted of solid terrazzo blocks, which were installed by stacking and utilizing the inventive bolting system.

Architect: Montgomery Sisam Architects
General Contractor: Bird Construction Trade
Contractor: Franklin Terrazzo"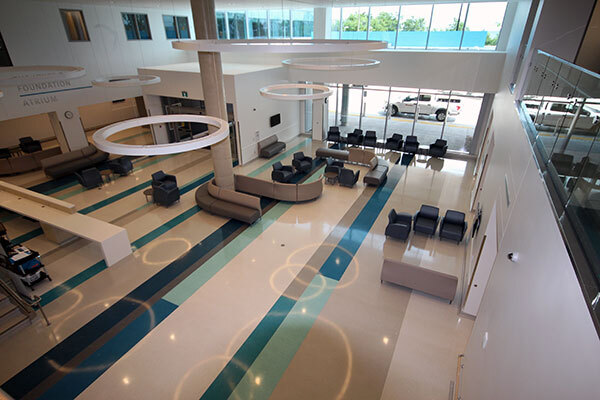 2018 TTMAC Hard Surface Awards: Terrazzo
Joseph Brant Hospital
As part of the redevelopment and expansion of the Joseph Brant Hospital in Burlington, ON, the use of technology, open spaces and a calming environment were used to encourage health and healing - and flooring played a key role in that.
Read More
The terrazzo project consisted of 28,000 sq. ft. of nine millimetre-thick epoxy terrazzo bordered in 3,000 lineal feet of 100-millimetre-high terrazzo cove base. The entire epoxy terrazzo floor had a full coverage crack isolation membrane and a moisture vapour barrier applied. The team of architects designed a linear pattern outlined with 16-gauge zinc divider strips. Eight colours of epoxy terrazzo, ranging from whites, greys, teals and blues, were composed of marble chips from a Canadian quarry, recycled glass and mirror chips. The 3,000-square-foot covered pedestrian bridge had a clear non-slip coating applied over the terrazzo to ensure the floor was not only visually appealing, but safe. The redevelopment and expansion of the hospital was the largest project of its kind ever undertaken in Burlington.

Architect: Parkin Architects
General Contractor: EllisDon Corp.
Owner: Joseph Brant Hospital Trade
Contractor: Franklin Terrazzo
Supplier: Domus Terrazzo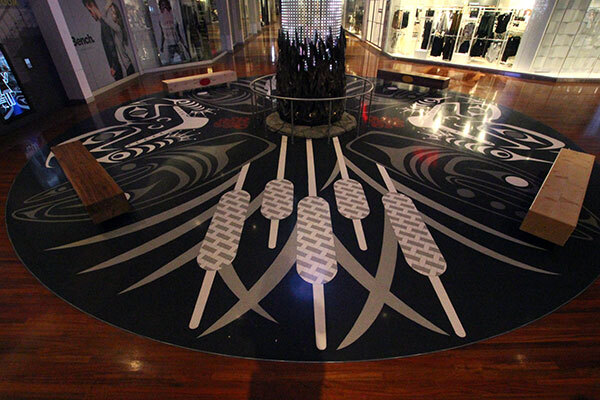 2017 TTMAC Hard Surface Awards: Terrazzo
Tsawwassen Mills
A 2,000 sq. ft. circular design named "The Coast Salish"" was installed in a shopping mall located on Tsawwassen First Nations land in Delta, B.C., Tsawwassen Mills.
Read More
The strip design consisted of symbols meaningful to the Tsawwassen First Nations. The medallion consisted of nine colours of Terrazzo, composed of marble glass and mirror chips. It was created in 4 ft. x 8 ft. sections of strip work which were hand formed and soldered to diamond lath sheeting by the contractor's shop. The completed medallion was shipped in sections, and assembled on top of a 1/4 in. epoxy and sand underbed. A second mall installation was a compass named ""Outdoor Life"" made up of four colours of terrazzo, with key symbols made of solid zinc.
Architect: IPRA Architects General
Contractor: Ledcor Constructing Ltd.
Trade Contractor: Franklin Terrazzo, Apex Granite and Tile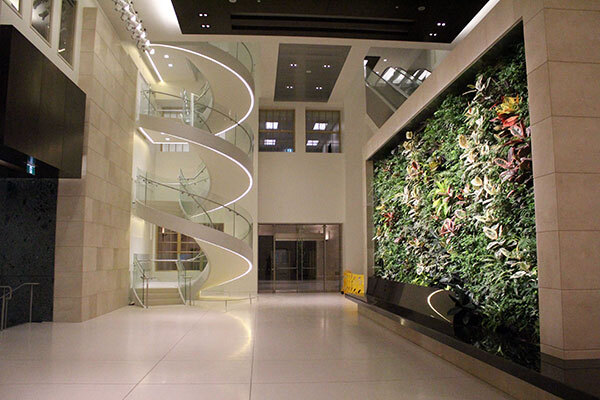 2017 TTMAC Hard Surface Awards: Unique special Award
Wellington Building
Originally the headquarters for the Metropolitan Life Insurance Company, 180 Wellington is recognized as a Federal Heritage Building which will house meeting rooms, a library and offices for 70 members of Parliament.
Read More
A $425 million restoration has brought the building back to its original splendor, while incorporating new and modern touches. It has 30,000 sq. ft. of 3/8 in. epoxy terrazzo system. A Moisture Mitigation System and a Fibre Reinforced Crack Isolation Membrane were utilized, and the terrazzo was composed of 100 percent Canadian white marble chips. The project has five incredible terrazzo staircases. The feature case consists of 65 stair treads and is installed in 360 degree visual. The single piece tread and risers units of white matrix and Canadian white marble chips have three black carborundum strips for slip resistance and visually distinguish each stair.

Architect: NORR Architects
General Contractor: Ellis Don
Contractor: Franklin Terrazzo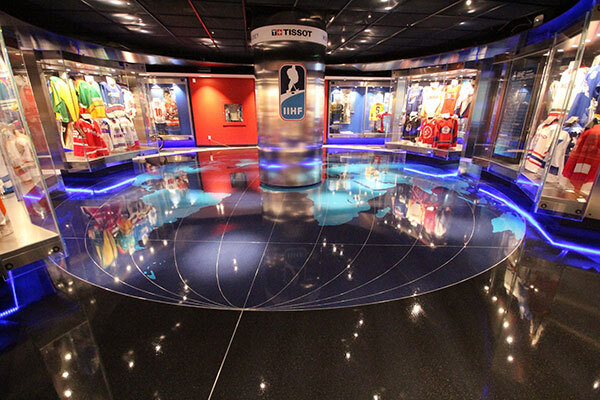 2016 TTMAC Hard Surface Awards: Project of the Year & Unique Special Award
The Hockey Hall of Fame
Considered both a museum and ""Hall of Fame"", this iconic Toronto facility is dedicated to the history of ice hockey. To emphasize the global appeal of the sport, the exhibit space was developed around a 30 ft. diameter map of the world - created in terrazzo.
Read More
The original intent was to use waterjet porcelain tile to be assembled on the floor; however, the designers were unable to source tiles to match the desired colour pallet. To resolve this dilemma, the designer contacted the supplier to see if the terrazzo tiles could be manufactured, and then waterjet cut and set into the floor. It was suggested that waterjet cutting be utilized for the landmass areas, while the surrounding areas and outer ring be traditional, poured-in-place epoxy terrazzo. The lines of longitude and latitude were made of one-quarter-inch zinc. The project consisted of three colours of epoxy terrazzo using coloured glass and black marble chips. To achieve the deep rich colours, the terrazzo was polished to 800 gritt and finished with four coats of TRX finish.

Architect: Holman Exhibits
Designer: Terry Heard Designers Trade
Contractor: Franklin Terrazzo Supplier: Domus Terrazzo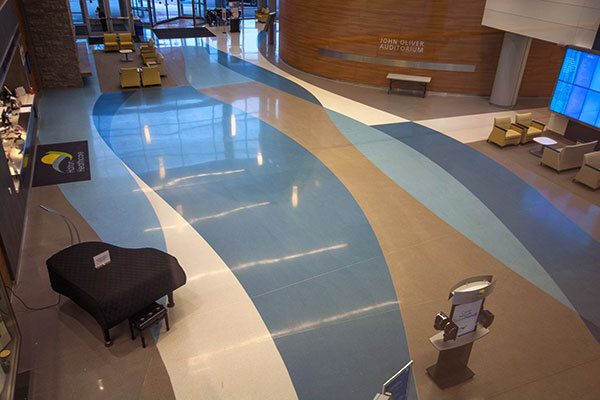 2016 TTMAC Hard Surface Awards: Terrazzo
Oakville Trafalgar Memorial Hospital
The new Oakville hospital is a state-of-the-art healthcare facility. The LEED certified project boasts 35,000 sq. feet of epoxy terrazzo floor, cove base and a monumental staircase.
Read More
The interior design was based on the existing natural environment, specifically the nearby 16 Mile Creek. The blue and grey tones represent water and stone, while the pattern is reminiscent of the movements of the creek. The concept required combining 10 different colours of epoxy terrazzo, recycled glass and mirror chips. The terrazzo system also included a moisture mitigation membrane and full coverage crack isolation membrane. One-eighth-inch zinc divider strips contributed to the conceptual pattern of flowing water.

Architect: Parkin Architects General
Contractor: Ellis Don 1 Carillion Trade
Contractor: Franklin Terrazzo Company
Supplier: Domus Terrazzo